September 28 Meeting Highlights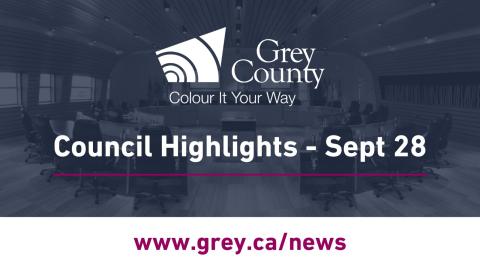 Grey County Council met on September 28, 2023, in the Council Chamber and virtually on Zoom. The meeting was immediately followed by a session of Committee of the Whole. Recordings of the meetings can be found on Grey County's YouTube Channel.
County Council
Council accepted the minutes of the September 14 Grey County Council and Committee of the Whole meetings.  Council  Committee
Council accepted the minutes of the September 12 Long-Term Care Committee of Management Meeting.  Minutes
Committee of the Whole
Councillor Keaveney brought forward a notice of motion requesting Grey County support the Municipality of Meaford in buying a former school track property at 87 Aiken Street in Meaford for a future affordable housing development. Council moved into closed session to discuss a property acquisition, as permitted under the Municipal Act. Following the session, Council advised staff had been given direction and voted to defer the notice of motion to a future meeting.
Council received the 2023 Grey Bruce Local Immigration Partnership (GBLIP) three year in review. Staff highlighted many completed actions, including participation in more than 25 community events, delegating to 17 municipal councils throughout Grey and Bruce counties, studying discrimination, and supporting national projects for anti-racism. GBLIP has also been selected to join the World Education Services #ImmigrantsWork program to help community partners design solutions that help identify, recruit, and retain local immigrant talent. Report
Grey County is taking steps to continue building relationships with local Indigenous Peoples and better recognize their cultures. In addition, Grey Roots Museum and Archives will continue to build on outreach and engagement with the Indigenous community and will offer free admission to the museum and archives to Indigenous People. Report
Grey County will apply to the Natural Resources Canada Zero Emission Vehicle Infrastructure Program for $100,000 in matched funding for the installation of electric vehicle charging stations. The stations would support future light-duty vehicles for the County's fleet. Council also supported applying to the Education and Awareness project stream for funding to develop a conference with community partners to explore the use of hydrogen and other clean fuels for zero-emission vehicles.  Report
The Clerk's Department maintains the official record for Grey County. This publication is intended to provide meeting highlights only. For official records, please refer to the meeting minutes, or contact the Clerk's Department at 1-800-567-4739.