Get Involved in the Grey County Climate Change Action Plan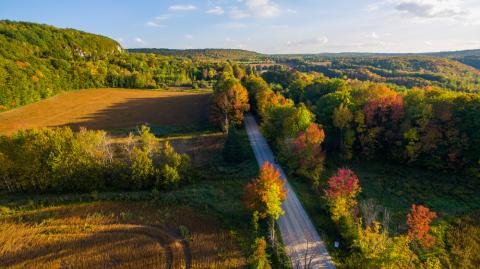 Grey County is hosting three public engagement sessions to gain public feedback on the draft Climate Change Action Plan. Sessions will be held on October 26 at 7:00 p.m., October 27 at 1:00 p.m., and October 28 at 5:30 p.m. These sessions will be held online using the Zoom platform and will take approximately an hour and 30 minutes. Interested participants are asked to register online at www.grey.ca/ClimateAction.
"Climate change touches everyone and we in Grey County need to do our part to reduce our greenhouse gas emissions," said Grey County Warden Selwyn Hicks.  "We need to act today for a better tomorrow for our children, grandchildren and great grandchildren."
As Grey County's population continues to grow, it's important for the County to understand how to develop sustainably in the context of our changing climate. The Grey County Climate Change Action Plan will establish long-term greenhouse gas reduction targets for County operations, and the Grey County community. It proposes actions to achieve to achieve these targets that also support potential job creation and public health benefits of reducing greenhouse gas pollution.
A draft of the climate change action plan is now available on the County website, www.grey.ca/ClimateAction, for public review and comment. Developed in partnership with ICLEI Canada, an organization dedicated to environmental sustainability by local governments, the plan identifies several corporate and community strategies for reducing emissions. The key themes identified in the draft plan are buildings, transportation, waste, agriculture, land-use planning, energy, and protection of waterways and shorelines.
Comments on the draft plan can be provided by email to linda.swanston [at] grey.ca or in-person at one of the three public engagement sessions. County staff are also available to speak to community groups and receive feedback on the plan upon request. If you wish to provide comments another way, please contact Linda Swanston by email or call 519‑372‑0219 ext.1430.
Comments on this draft of the Climate Change Action plan will be accepted until November 5, 2021. Community and stakeholder engagement will continue throughout the lifecycle of the plan.
For more information visit www.grey.ca/ClimateAction.
-30-
For media inquiries contact Rob Hatten at rob.hatten [at] grey.ca or call 519-373-1592.