April 13, 2023 Meeting Highlights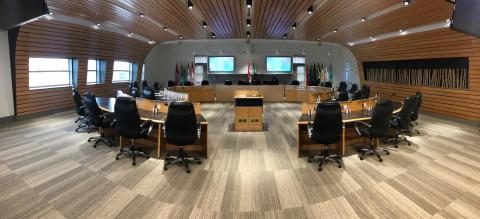 Grey County Council met on April 13, 2023 in the Council Chamber and virtually on Zoom. The meeting was immediately followed by a session of Committee of the Whole. Recordings of the meetings can be found on Grey County's YouTube Channel.
County Council
Council accepted the minutes of the March 23 County Council and Committee of the Whole meetings.  Council  Committee
Council adopted the minutes of the March 21 Long-Term Care Committee of Management meetings, including closed meeting minutes. Minutes
By-law 5152-23 was passed, which authorized the Warden and Clerk to enter into the Next Generation 9-1-1 Authority Service Agreement with Bell Canada. By-law
Committee of the Whole
Council received a presentation from Grey Bruce Health Services detailing plans for a new Wellness and Treatment Centre focused on mental health / addictions and requesting $1 million in support from Grey County. Council agreed the centre is deeply needed and voted to receive the request for information. A staff report will be brought back to Council for further discussion in the context of Council's Healthcare Funding Policy. Presentation   
Council heard a presentation from Joachim Ostertag from the Earth Day Planning Group. Mr. Ostertag shared highlights from previous years and provided details on new partners and activities for this year's event on April 22, including an Earth Night film screening. Presentation
Council received a request from Cuesta Planning Consultants to modify plans for the Shahabi Subdivision in Georgian Bluffs to reference an easement for drainage purposes rather than a dedicated block. Scott Taylor, Grey County Director of Planning, discussed the final report for the subdivision including a staff recommendation to include the block. Council voted to approve the plan as presented, creating six residential lots and one block for access and drainage. Staff Presentation Report  
Council voted to award the Grey Roads 2 and 19 resurfacing project to E. C. King Contracting. Council also approved the Grey County portion of a Municipality of Meaford tender for the St. Vincent – Grey Road 7 Reconstruction. Grey Roads 2 and 19  St. Vincent Street Grey Road 7  
Council received Councillor Boddy's resignation from the Grey Bruce Board of Health; and appointed Councillor Carlton to the Grey Bruce Board of Health for the remaining two-year term ending December 2024.
The Clerk's Department maintains the official record for Grey County. This publication is intended to provide meeting highlights only. For official records, please refer to the meeting minutes, or contact the Clerk's Department at 1-800-567-4739.