Updated: Grey Road 1 reopened after culvert replacement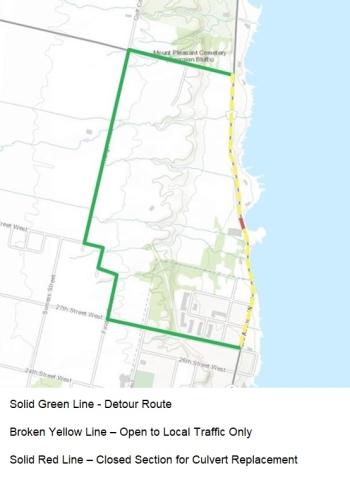 Update: September 20, 2022 , 4:14 p.m.
Grey Road 1 is now reopened to traffic.  Work will continue to complete the project; however, the road will remain open. 
---
A portion of Grey Road 1 will be closed from 8:00 a.m. on Monday, September 19 until 5:00 p.m. on Wednesday, September 21 for a culvert replacement project. Timelines may be adjusted if poor weather or other factors delay the project.
The culvert is located on Grey Road 1 between Grey Road 17A and 27th Street West in Owen Sound.  The road will be closed for the duration of this project, including at night.  A detour will be posted in line with the map below. 
The work includes removing the existing culvert, installing a new culvert, and paving the construction area. 
All work will be completed during regular daylight hours and local emergency vehicle access will be maintained at all times.
Grey Road 1 Culvert 673 Replacement Detour Map
For more media inquiries contact Rob Hatten, communications manager, at rob.hatten [at] grey.ca or call 519-373-1592.