Transform the Lawn! Community Tree Planting to Celebrate Climate Action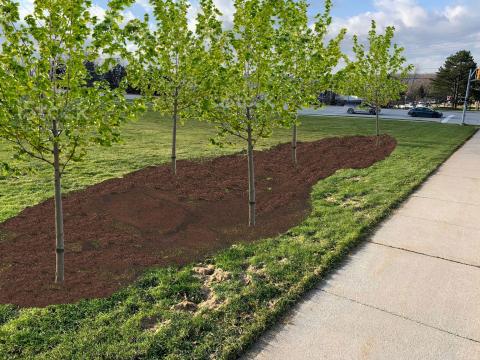 Grey County is naturalizing the property at the Administration Building in Owen Sound and is inviting the community to join in a morning of tree planting, learning about right relationship with the land, and celebration of local climate action.
The event will take place October 15th from 9:30 a.m. to 11:30 a.m. at the Grey County head office located at 595 9th Avenue East in Owen Sound. Volunteers are invited to come out and support the planting of approximately 20 young trees while learning about Grey County's Climate Change Action Plan, Going Green in Grey, and ways to stay involved locally. The event will open with an Indigenous teaching on the importance of stewardship and connection with the land, our local environment, and each other. Light refreshments will be available for all who attend. Pre-registration is encouraged through Grey-Tree-Planting.eventbrite.ca.
If the weather is unfit, a rain date is planned for Saturday, October 22.
"Nature-based solutions are key to Grey County's Climate Change Action Plan, Going Green in Grey," said Grey County Warden Selwyn 'Buck' Hicks. "The re-naturalization of this property is a small but symbolic step forward in Grey County's commitment to climate action and meeting our greenhouse gas net-zero community target by 2050. If you're passionate about climate action, I encourage you and your family to join us on October 15."
Going Green in Grey calls for the planting of 5 million trees by 2050.
NeighbourWoods North, a local community volunteer group dedicated to climate action through urban forestry, has been a key partner leading the project. The first year of the plan for the Administration property includes the planting of approximately 20 trees, two pollinator gardens, and exploring a future rain garden. Council approved the plan at a meeting earlier this year.
You can learn more about NeighbourWoods North and get involved at www.neighbourwoodsnorth.com.
Grey County approved the Going Green in Grey climate action plan in June. The plan was developed in consultation with stakeholders from a variety of sectors as well as hundreds of residents who shared their time, ideas, and expertise. You can learn more about Going Green in Grey at www.grey.ca/climate-action.   
-30-
For media inquiries, contact Rob Hatten, communications manager, at rob.hatten [at] grey.ca or 519-373-1592