Sydenham Campus Hosting 2nd Annual Student Makers Market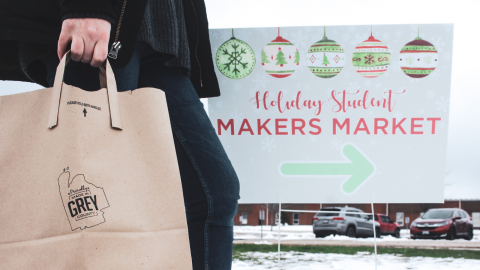 Grey County's Sydenham Campus – Regional Skills Training, Trades, and Innovation Center – will be hosting their 2nd Annual Student Makers Market in support of local youth entrepreneurs.
Featuring handmade products from both high school and post-secondary students, the 2nd Annual Student Markers Market will be open from 1:00 PM – 4:00 PM this Saturday, December 11, 2021 within the Sydenham Campus building, located at 1130 8th Street East, Owen Sound.
"The Student Makers Market is a great opportunity for members of the community to come out and support local, youth lead businesses," said Courtney Miller, Business Enterprise Manager. "There are so many talented young entrepreneurs in the region, which will be demonstrated by both the range and quality of products on display at this weekend's markets."
Student vendors will be selling a variety of handmade products including 100% soy wax candles, scrunchies, jewelry, holiday décor, woodworking, pet products, and more. All vendors will have the ability to make cash, debit, and credit transactions, and shoppers will have access to an available ATM onsite.
COVID-19 protocols are currently in effect and are subject to change. At this time shoppers are required to wear a mask and sanitize prior to entering the facility.
The Sydenham Campus is a regional training and skills center in Owen Sound with small business support and entrepreneur training. It is home to The Business Enterprise Centre, which provides entrepreneurs with the information, tools and guidance needed to start, expand, and grow their small business, including business planning and grants. Catapult Grey Bruce is a not-for-profit accelerator located at the Sydenham Campus providing mentorship and Fast Lane Plus programming for established small and medium sized businesses. Recent funding from FedDev will allow for the creation of fabrication and maker space labs at the campus. Rental space is available for entrepreneurs and other organizations and businesses in the community looking for office and/or training space.
-30-
For more information, contact:
Rob Hatten
Grey County
Communications Manager
519-372-0219 ext. 1235
rob.hatten [at] grey.ca
Courtney Miller
Grey County
Business Enterprise Manager
519-372-0219 ext. 1297