Share Your Vision and Recolour Grey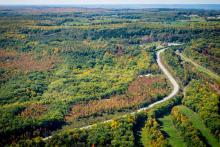 Engaged residents can help shape the future of Grey County by participating in the Recolour Grey launch event on Thursday, May 19th at 7 p.m. at the Grey County Administration Building.
"Recolour Grey is your opportunity to tell us what's important to you. Public input is a critical building block when planning for the future needs of a community," said Randy Scherzer, Director of Planning. "Grey County is full of diverse communities with unique needs and characteristics.  Everyone has valuable input to share."
Recolour Grey challenges everyone to look 20 years into the future and envision the county how they want to see it. What should Grey County look like in five, ten, or 20 years?  What do you like most about your community? What's missing? What should we start planning for today to address the needs of tomorrow?
The special meeting will include breakout sessions. Participants will discuss specific themes such as agriculture and rural resources, the natural environment, transportation and more.  Feedback collected will be used to update the Grey County Official Plan and set goals related to development, communities and our natural resources.
"This summer, Recolour Grey is hitting the road. We'll be participating in events all across the county," said Scherzer. "Anyone unable to participate in the launch event will have many more opportunities to have their say."
Everyone who provides feedback through Recolour Grey will be entered into a prize draw for a day away in Grey.
Stay connected with Recolour Grey on Twitter and Facebook, or visit www.Grey.ca/recolour-grey to learn more and subscribe to the newsletter.
For more information contact Randy Scherzer, Director of Planning, at randy.scherzer [at] grey.ca (randy[dot]scherzer[at]grey[dot]ca) or 519‑372‑0219 ext. 1237.