Reopening of Moreston Heritage Village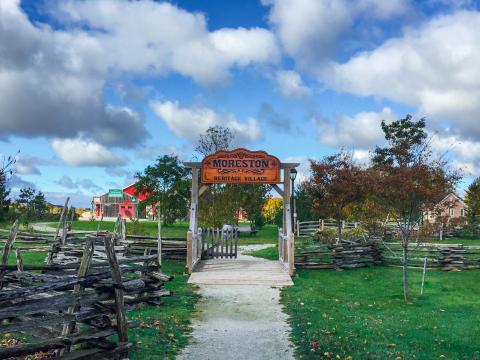 Moreston Heritage Village at Grey Roots Museum & Archives will reopen its outdoor spaces to visitors on Friday July 16th. The village, which features beautifully maintained early Ontario buildings and a well-kept walking trail, has spent much of the previous six months closed to the public following regional and provincial health guidelines to limit the spread of COVID-19.
Jill Paterson, Museum & Archives Manager, is excited to reopen the outdoor space to visitors. "Staff have been hard at work to prepare for reopening and we can't wait to see guests in the village once again."
At this time during Ontario's Roadmap to Reopen, Grey Roots is opening the outdoor areas of their facility only. Visitors will be able to explore the entire ten-acre Heritage Village, however access to the interior of the museum, archives, and heritage buildings will not be available at this time. All patrons will be required to screen for symptoms prior to entering the village and are reminded to maintain physical distance of two metres from other guests and staff. Use of facemasks while visiting the village is encouraged, though not required in outdoor spaces.
In order to manage capacity, visitors are asked to book in advance at greyroots.com, or over the phone at 519-376-3690.
Admission to the village is complimentary during this initial reopening, however those who wish to give a donation are welcome to do so. "We wanted to welcome everyone back with an acknowledgement of their patience during our closure, and admission by donation seemed like a great way to say 'thank you' to new and returning guests." says Paterson.
As the Province moves into Step 3 of the Roadmap to Reopen later this week, Grey Roots staff will continue to prepare for the eventual reopening of the entire facility at a later date.

-30-
For further information contact:
Jill Paterson, Manager of Museum and Archives, 519-376-3690, ext. 6104, jill.paterson [at] greyroots.com
Grey County Communications at communications [at] grey.ca