Regional Job Fairs Ready to Welcome Job Seekers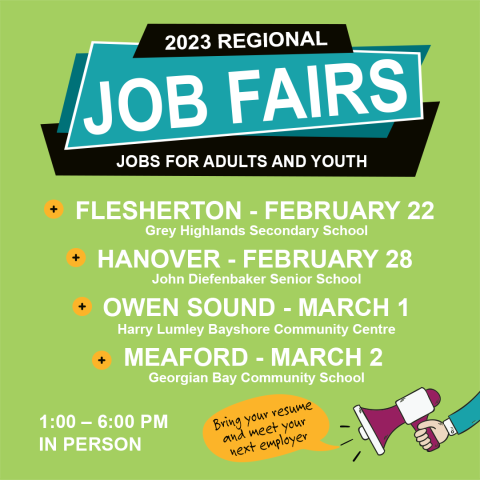 Starting next week, employers and job seekers will be able to meet face to face at multiple regional job fairs hosted across Grey County.
Job fairs will take place:
Wednesday, February 22 from 1:00 p.m. to 6:00 p.m. at Grey Highlands Secondary School in Flesherton.
Tuesday, February 28 from 1:00 p.m. to 6:00 p.m. at John Diefenbaker Senior School in Hanover.
Wednesday, March 1 from 1:00 p.m. to 6:00 p.m. at the Harry Lumley Bayshore Community Centre in Owen Sound.
Thursday, March 2 from 1:00 p.m. to 6:00 p.m. at Georgian Bay Community School in Meaford.
"The regional job fairs attract a variety of employers recruiting for a range of positions. These events are a great way for candidates to meet face to face with employers and make an impression," said Jacinda Rudolph, Grey County Economic Development Officer. "If you're looking for a job or are considering a change, the Regional Job Fairs are your best chance to discover what opportunities are currently available throughout the region."
Some of the registered employers include Canada Post, Grey Bruce Health Services, Bluewater District School Board, Pickard Construction, and more. Job seekers are not required to register in advance for the fairs but are encouraged to come prepared and bring copies of their resumes. Those looking for support with their resume or interviewing skills can contact YMCA Employment Services by calling 519-371-9222 or email employment [at] osgb.ymca.ca (employment[at]osgb[dot]ymca[dot]ca).
The Grey County Regional Job Fairs are made possible through collaboration with local partners including County of Grey, YMCA of Owen Sound Grey Bruce, Four County Labour Market Planning Board, Georgian College, Bluewater District School Board, City of Owen Sound, Town of Hanover, Municipality of Meaford, Meaford Chamber of Commerce, and South Grey Chamber.
For more information about the regional job fairs, visit grey.ca/job-fair.

-30- 
For questions about the job fair, contact Linda Alexander, YMCA Manager, Employment, Settlement & Language Services at linda.alexander [at] osgb.ymca.ca (linda[dot]alexander[at]osgb[dot]ymca[dot]ca) or call 519-371-9222 x 228 
For media inquiries, contact Rob Hatten, communications manager with Grey County, at rob.hatten [at] grey.ca (rob[dot]hatten[at]grey[dot]ca) or call 519-373-1592