Public Works Week 2023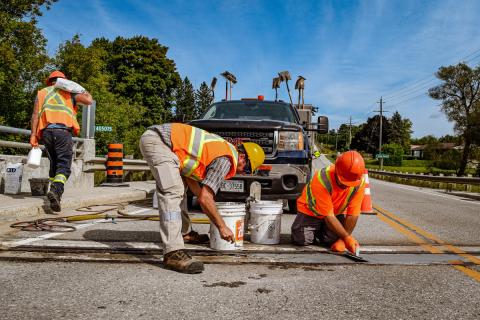 May 21- 27 is National Public Works Week recognizing the dedicated people who maintain our roads and infrastructure and keep our communities strong and vibrant. 
Grey County Transportation Services staff serve our community all year long, and not only by clearing snow and reconstructing roads. Our staff are actively maintaining road surfaces and bridges, removing trees, replacing culverts, clearing ditches and mowing weeds, grading shoulders and much, much more. Did you know County Transportation Services staff also help maintain the CP Rail Trail and other County Forest properties?
Behind the scenes, we employ a team of skilled engineers and administrative staff who plan and coordinate all the work that happens on our roadsides. We also have a great team of specialized mechanics working to keep our fleet of vehicles rolling, from our plows to our backhoes to our ambulances.
Thank you to all of the Public Works staff across Grey County for providing the services we rely on and keeping our communities safe.