Paramedic Services Week 2021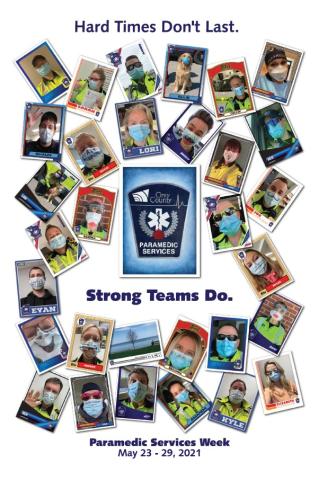 May 23 to 29 is Paramedic Services Week in Canada. The theme this year is Paramedic as Educator - Citizen Ready and it demonstrates the important roles that paramedics continue to play on the front lines of the healthcare system during the pandemic.
In Grey County, paramedics are celebrating the idea that hard times don't last, but strong teams do. Over the past year, Grey County paramedics stepped up to learn, teach and perform a number of new roles in response to the COVID-19 pandemic. These include assisting in Long-Term Care homes, providing COVID testing and helping with COVID vaccine clinics, assisting with in-home palliative care, and helping other municipalities with patient transfers and other services. 
"As the pandemic continues to affect us all, we're thankful for our paramedics and our frontline staff who are dedicated to saving lives," says Kevin McNab, Director of Paramedic Services. "I am so proud of our staff and the leadership and hard work they've demonstrated over the past year. More than half of our staff took on new duties, and the rest of our staff supported them by picking up work so we could all give extra where it was needed."
On Friday May 28, Grey County Paramedics will host a special Facebook Live ambulance tour at 3:30 p.m. This fun and informative behind the scenes tour will share how paramedic teams work together, the important machines and tools they use, and what to expect if an ambulance gets called. Find Grey County Paramedic Services on Facebook to watch the event live.
Grey County Paramedics are also coordinating a virtual food drive at four participating grocers across the county this week: Meaford Masse's Independent; Owen Sound Zehrs; Thornbury Foodland; and Hanover Grants Independent.
-30-
For media inquiries contact Katrina Peredun, Communications Officer, at katrina.peredun [at] grey.ca or 519-376-3365 ext. 6135.
Download the Paramedic Services Week 2021 Colouring Page!