November 12 Meeting Highlights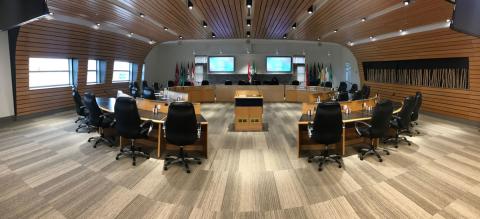 Grey County Council met on November 12, 2021 at 10:00 a.m in the Council Chamber for the regular session of council. The meeting was immediately followed by a session of Committee of the Whole. A recording of the meetings can be found on Grey County's YouTube Channel.
County Council
Committee of the Whole
Council passed a motion brought forward by Councillor Desai to directing staff to bring back an information report on the process for conducting a governance review. The review would consider many options, including term of the warden, direct and indirect election, meeting structure, weighted voting and more.  The report will be brought forward in 2022. Council acknowledged there is not enough time to make governance changes during this term of council. The report could allow the current council to prepare recommendations for the 2023-2026 council.
Council heard a delegation from Lyn Logan on behalf of a group of residents at Lora Bay in the Town of The Blue Mountains regarding the next phase of development and impacts to their homes. Council was asked to deny an extension to the draft approved plan.  Presentation
Council received a delegation from Raivo Uukkivi, representing the Lora Bay development. Council was provided with a history of the subdivision. 
After hearing both delegations and seeking legal counsel, Council approved an extension to the draft plan of condominium for Lora Bay.  Report   Presentation
Recent Growth Management Strategy findings and other housekeeping changes will be part of a future Official Plan Amendment. A public process, including a meeting, will be held in the coming months to gather input on the proposed changes.  Report
County Councillors will now have access to the Grey County Employee Assistance Program.  Report
Grey County will reach out to the Ministry to request approval to use mitigation funding to offset 2022 Children Services funding shortfalls. The County will also ask the province for approval to sell the current EarlyON building in Hanover and to reinvest in a new site.  Report
Council voted to pay the remaining mortgage for the Golden Town Residential, a rent-geared-to-income housing community in Meaford. Report
Grey County will purchase a building in Owen Sound to develop transitional and supportive housing. When renovated and operational, the building will provide safe and stable temporary housing for those experiencing homelessness.  Report
The Clerk's Department maintains the official record for Grey County. This publication is intended to provide meeting highlights only. For official records, please refer to the meeting minutes, or contact the Clerk's Department at 1-800-567-4739.