November 10 Meeting Highlights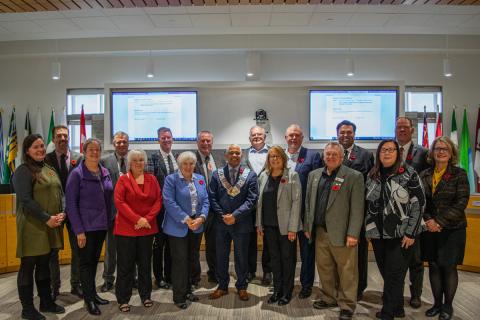 Grey County Council met on November 10, 2022 at 10:00 a.m. in the Council Chamber and virtually through Zoom. The meeting was immediately followed by a session of Committee of the Whole. Recordings of the meetings can be found on Grey County's YouTube Channel.
County Council
Council held a moment of silence ahead of Remembrance Day.
Council accepted the minutes of the October 27 County Council and Committee of the Whole meetings.  Council  Committee
Council accepted the minutes of the September 23 Board of Health Meeting.  Dr. Arra, Medical Officer of Health, provided an update on local COVID-19 cases, noting outbreak numbers are decreasing thanks to partners' efforts. Dr. Arra also shared the Health Unit is receiving $110,000 to implement an evidence-based approach to health promotion around substance use and substance-related harms among youth. Minutes
Committee of the Whole
Council received an update on Bill 23 - More Homes Built Faster Act. The Act proposes to amend various other planning-related acts to increase the speed of new developments and grow housing stock. Staff noted there are positive changes but also highlighted policies in the proposal that could negatively impact Grey County and local municipal revenues, resources, and processes. Grey County will submit comments to the Province by the November 24 deadline highlighting concerns. Report  Presentation
The November 10 meeting was the final session of the Grey County 2019-2022 Council. Warden Hicks acknowledged outgoing Councillors with service pins and thanked them for their service. CAO Kim Wingrove presented Warden Hicks with his service pin and thanked him for his leadership.
Grey County Warden Selwyn Hicks read his closing address.  Address
The Clerk's Department maintains the official record for Grey County. This publication is intended to provide meeting highlights only. For official records, please refer to the meeting minutes, or contact the Clerk's Department at 1-800-567-4739.
2022 Warden's Closing Address
Selwyn 'Buck' Hicks