Notice of Construction – Road and Servicing Works to Support New Rockwood Terrace and Future Development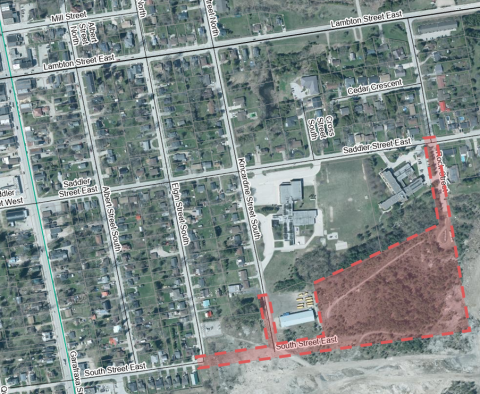 What: Construction of road and servicing works to support the new Rockwood Terrace long-term care home, as well as to support future development on lands adjacent to Rock Street and South Street East, will start occurring the week of September 18, 2023.  There are two stages to the road and servicing works, first stage will occur between September 2023 and May 2024 which will involve grading the site/road extensions and installing services.  Second stage will involve paving the road extensions and installing curbs/sidewalks which will occur near the end of the construction of the long-term care home in the summer/fall 2026.
Site: The new Rockwood Terrace will be constructed on the lands directly south of the existing Rockwood Terrace and east of the Curling Club.  Road and servicing extensions will occur on Rock Street (south of Saddler Street), South Street East (east of Elgin Street to connect to the Rock Street extension), and Kincardine Street (to connect to the South Street East extension).  During construction, there will be times where sections of these roads will be closed and roads within the area may experience higher volumes of truck traffic.  Majority of the truck traffic will be on Rock Street.  Access to your entrance will be available at all times.
Further information: Information about the construction of the new Rockwood Terrace and the road and servicing works can be found here - https://www.grey.ca/government/special-projects/redeveloping-rockwood-terrace
Questions/Comments: If you have any questions or comments regarding the road and servicing works happening in your area, please do not hesitate to contact the West Grey staff or Grey County staff using the contact information below.
West Grey:            Geoff Aitken, Manager of Public Works
                              publicworks [at] westgrey.com (publicworks[at]westgrey[dot]com)
                              519-369-2200 x227
Grey County:         Randy Scherzer, Deputy CAO               
                              randy.scherzer [at] grey.ca (randy[dot]scherzer[at]grey[dot]ca)                       
                              519-372-0219 x1237