New Travelling Exhibition at Grey Roots Challenges Perceptions of the Arctic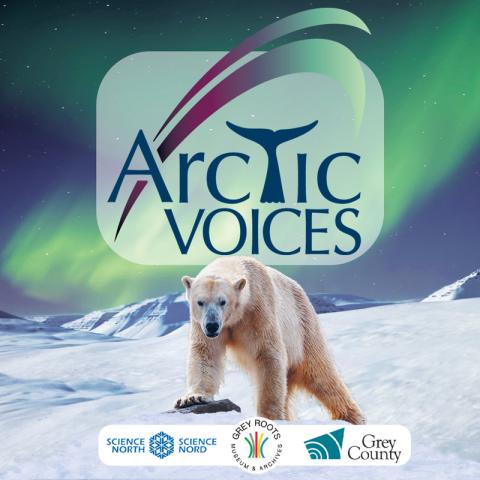 A scientific and cultural journey to the Arctic is the theme of a new travelling exhibition set to open on May 28, 2022, at Grey Roots Museum & Archives.

Despite its seemingly remote location, the Arctic is connected to all of us. In Arctic Voices, visitors are taken on a fascinating journey to this vital and changing region. Arctic Voices uses interactive experiences, photos, videos, and real specimens to convey that the Arctic is more than just snow and ice. It is home to people and to a surprising diversity of wildlife. It is a place of rapid change being studied and monitored by scientists. Find out what affects the Arctic and in turn, how the Arctic has an impact on the entire planet.

Arctic Voices will challenge your perception of the Arctic and introduce you to a colourful, vibrant land. Crawl your way beneath the ice and come face to face with a polar bear. Travel with scientists as they catch and tag Arctic whales, and then go on a "garden tour" to see how plants have adapted to survive and thrive in this harsh environment. Listen to stories from the people who inhabit this region, as they share their knowledge about the land and their unique culture. You can even try throat singing, a traditional art with modern applications.

"It's a fabulous exhibition, one we're lucky to be hosting," says Jill Paterson, Museum Manager. "It presents the Arctic in such an approachable, interactive way. Everything works to give you a sense of what it's really like in the Arctic, from animal life on the tundra, to cutting edge climate science. We're happy to bring the Arctic home for our visitors."

Arctic Voices is produced by Science North, one of Canada's largest and most respected science centres. Grey Roots hosts the exhibition from May 28, 2022, until September 9, 2022.
 
-30-
 
Grey Roots Museum & Archives shares the unique stories of Grey County through programming, special events, and original and traveling exhibitions. greyroots.com
Science North, an agency of the Government of Ontario, is Northern Ontario's most popular tourist attraction and an educational resource for children and adults across the province. sciencenorth.ca

For further information contact:

Jill Paterson, Manager: 519-376-3690 ext 6104, jill.paterson [at] greyroots.com

Zak Erb, Public Relations Coordinator: 519-376-3690 ext. 1423, media [at] greyroots.com