How Has COVID-19 Impacted You?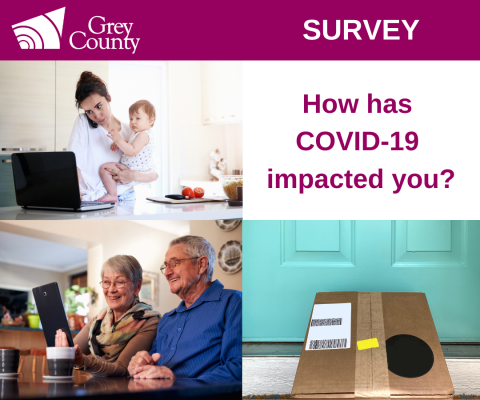 A county-wide survey is asking Grey County residents how COVID-19 has impacted their daily lives. Surveys will be mailed to more than 50,000 homes beginning the week of September 27 and will also be available online. Residents are being asked to provide feedback on a range of social, economic, and health-related questions. Individual responses will remain confidential, and results will help the County and local municipalities make important decisions regarding pandemic recovery efforts.
"The COVID-19 pandemic has had an impact on everyone in Grey County from every walk of life. This study will highlight the impacts in rural communities and will help municipal leaders in Grey County make important decisions as our region continues to recover from the pandemic," said Randy Scherzer, Grey County's deputy chief administrative officer.
The survey quizzes residents about life before the pandemic was declared and how it has changed. It touches on personal finance, social activity, mental and physical wellbeing, food security and more.
The electronic version of the survey can be found online at www.grey.ca/COVID-Impact-Survey. Physical copies of the survey can be completed and returned by mail. Postage is prepaid. The survey will take approximately 20 minutes to complete.
The lead researcher in the survey is Leith Deacon, PHD, Associate Professor, School of Environment Design and Rural Development, University of Guelph. Financial support for this project is provided by the Ontario Ministry of Agriculture, Food and Rural Affairs (OMAFRA) and by Grey County.
-30-
For more media inquiries contact Rob Hatten, communications manager, at rob.hatten [at] grey.ca (rob[dot]hatten[at]grey[dot]ca) or call 519-372-0219 ext.1235 or 519-373-1592.