Have your say and help shape Grey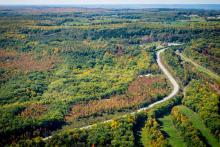 Grey County planners are headed back out on the road for the second round of public consultations for Recolour Grey, the update to the Grey County Official Plan. Staff are holding workshops in every local municipality to make it easier for residents to participate and share their thoughts.
Each event will start with an overview of Recolour Grey and the findings so far. Participants will then dive deeper into policy discussions and recommendations during breakout sessions lead by county staff. These sessions will be split into five themes: Live Grey, Cultivate Grey, Develop Grey, Move Grey and Natural Grey.
"Public input is such an important part of the official plan process. The policies we set through our plan will guide development for the next 20 years," said Grey County Warden Alan Barfoot. "We are very pleased with the public's enthusiasm to participate so far. We have been listening carefully and these consultations will help us find out if we've heard the public right."
Grey County has approached Recolour Grey differently than previous official plan reviews. Instead of limiting public consultation to legislated public meeting, planning staff have been active in all corners of the county attending events, hosting workshops and speaking to interested groups. Going out to the public is one of the pillars identified in the county's Corporate Communication Strategy and the extra effort is paying off.
"Not only are we seeing more participation and collecting more comments, we're getting information that represents the greater population of the County," said Randy Scherzer, Director of Planning with Grey County. "It isn't the same people commenting. By making engagement easier, we're hearing from all ages and demographics."
Nine workshops will take place from the end of August through September.
Date
Municipality
Location
August 28, 2017
6:30 p.m.
Southgate
Frank Macintyre Building
220 Owen Sound Street, Dundalk
August 31, 2017
6:30 p.m.
Grey Highlands
Markdale Arena (upstairs)
75 Walker Street, Markdale
September 12, 2017
6:30 p.m.
West Grey
Durham Arena
451 Saddler Street West, Durham
September 13, 2017
5:00 p.m.
Georgian Bluffs
Georgian Bluffs Council Chambers
177964 Grey County Rd 18, Owen Sound
September 18, 2017
5:00 p.m.
Hanover
Hanover Council Chambers
341 10th Street, Hanover
September 19, 2017
6:30 p.m.
Owen Sound
Bayshore Community Centre
1900 3rd Avenue East, Owen Sound
Christie Hare Room
September 21, 2017
5:00 p.m.
Town of The Blue
Mountains
Town of The Blue Mountains Municipal Office
32 Mill Street, Thornbury
September 26, 2017
6:30 p.m.
Municipality of Meaford
Meaford Fire Hall
81 Stewart Street, Meaford
September 27, 2017
1:30 p.m.
Chatsworth

316837 Highway 6, Chatsworth
Anyone who is unable to participate in a workshop can learn more about Recolour Grey on the county's website at www.grey.ca/recolourgrey. Comments can be sent by emailing recolour [at] grey.ca, calling 519-372-0219 ext. 1296, or by mail.
Comments will be considered when drafting the updated plan. Once the draft is complete, a formal public meeting will be held for more comments and input. The updated draft will then be presented to Grey County Council for their approval.
-30-
For more information contact Rob Hatten, Communications Manager, at rob.hatten [at] grey.ca of 519-372-0219 ext.1235.