Grey County Talks Intelligent Communities in New York City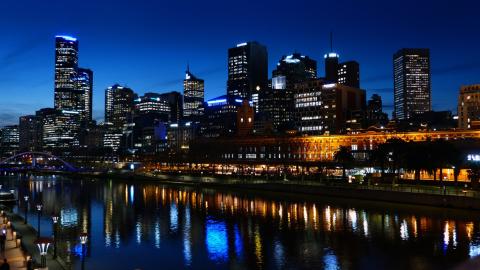 Grey County was proud to participate in the 2017 Intelligent Communities Forum Summit to tell the world about their intelligent community journey.  The three-day summit, held in New York, New York, brings together leaders from cities and regions all over the world to share stories and best practices about digital equality and community prosperity. Grey County participated in the Summit as a 2017 Top7 Intelligent Communities of Year finalist.
"To be recognized as an intelligent Community of the Year is a tremendous honour and a great responsibility," said Barfoot. "Even though we didn't take home top award for Intelligent Community of the year, we are extremely proud for what we have accomplished and feel like we have already won by making it this far."
On June 8 Melbourne, Victoria, Australia was named the 2017 Intelligent Community of the year.
Each year, the Intelligent Community Forum (ICF) runs an awards program for Intelligent Communities. These awards have two goals: to recognize accomplishments in developing inclusive prosperity through the use of information and technology, and to gather data for ICF research programs. Communities submit applications and in the fall the ICF announces the Smart21 Communities of Year. The Smart21 Communities fill out a more extensive questionnaire and in February the ICF narrows down the Top7 Intelligent Communities of the Year. ICF co-founders visit and tour the Top7 communities and an international team of jurors vote to decide the Intelligent Community of the year.
Grey County also accepted their Top7 award at a reception at the Museum of American Finance.
"Our journey isn't over," said Barfoot. "Being named an intelligent community has opened doors. Now we can learn from other cities and regions from around the world and share our own data and best practices. Together we will make our communities better places
"Being an intelligent community isn't about having the best technology or the most fibre in the ground," said Savanna Myers, Manager of Economic Development with Grey County. "Intelligent Communities focus on their people. They use technology to address their challenges head on so the people in their community have the opportunity succeed and be happy."
Being named an Intelligent Community doesn't just recognize what the municipality of Grey County has done; it recognizes the contributions of the community as a whole.
"We're proud of the leadership Grey County provides, but we didn't make it this far because of our efforts alone. We're here because of our innovative businesses including our ag-sector leaders. We're here because of our schools and because of Georgian College who are training our next generation of highly skilled workers," said Myers.
Some highlights from Grey County's application include advocacy and leadership for rural broadband equality, the 2016 Ag4.0 Summit and Innovation Tour, Georgian College's marine training facility and the nursing program, the LaunchPad Youth Activity and Technology Centre, the Bluewater District School Board's specialized high skills major programs and much more.
The announcement of the Intelligent Community of the Year Award capped off the three days summit. On June 6, Grey County participated in 'Economic Development Day'. Grey County representatives met with delegates from all around the world in 20 minute "speed dating" sessions. June 7 was "Accelerator Day." Grey County delegates participated in a series of panels and workshops, hearing from experts from all over the globe about topics including rural development in the digital age.
June 8 was Grey County's time to shine. Warden Alan Barfoot, CAO Kim Wingrove and Manager of Economic Development Savanna Myers took to the stage. Together the team shared the story of Grey's intelligent community journey and fielded questions from ICF co-founder Lou Zacharilla.
To learn more about Grey County's Intelligent Community Journey, visit www.Grey.ca/smart.
-30-
For more information contact Rob Hatten, Communications Manager at rob.hatten [at] grey.ca or 519-372-0219 ext.1235.