Grey County to recognize National Day for Truth and Reconciliation and support recommendations of Shko Naanibwida – Standing Strong Together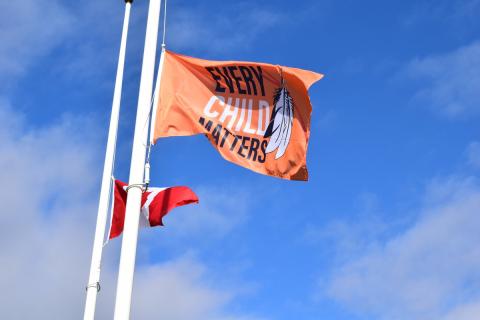 On September 30, Grey County recognizes National Day for Truth and Reconciliation to honour the victims and survivors of residential schools in Canada. Flags at Grey County locations will be lowered to half-mast and the Every Child Matters flag will be flown.
"National Day of Truth and Reconciliation is an opportunity to honour the truth by learning about the history and legacy of the residential school system in Canada," said Grey County Warden Brian Milne. "I encourage everyone to attend a local reconciliation event and spend time exploring resources and listening to the stories of those whose lives and communities have been forever altered by the residential school system."
To mark the day, Warden Milne and Grey County chief administrative officer Kim Wingrove are participating in a ceremony at Giche-Name Wikwedong Reconciliation Garden at Nawash Park in Owen Sound. This is one of multiple events taking place across the region.  Information on local Truth and Reconciliation events can be found at greyroots.com/truth.
Grey County is taking steps to continue building relationships with local Indigenous Peoples and better recognize their cultures. On September 28, Grey County Council, sitting as Committee of the Whole, supported the Association of Municipalities of Ontario's declaration of commitment and friendship with the Ontario Federation of Indigenous Friendship Centres. Further, Council supported the recommendations of the Shko Naaniibwida – Standing Strong Together document developed by the M'Wikwedong Indigenous Friendship Centre. This document provides guidance on how Grey County can further recognize and support First Nations culture and incorporate these recommendations into work planning for 2024 and beyond.
In addition, Grey Roots Museum and Archives will continue to build on outreach and engagement with the Indigenous community. Grey Roots has established an Indigenous Advisory Circle to consult with the community and will explore more ways to share their history by telling their stories and sharing their artifacts. Grey Roots will also begin offering admission to the museum and archives at no charge to Indigenous People.
-30-
For media inquiries contact Rob Hatten, communications manager, at rob.hatten [at] grey.ca (rob[dot]hatten[at]grey[dot]ca) or call 519-373-1592.