Grey County expands Rockwood Terrace redevelopment plans to include assisted living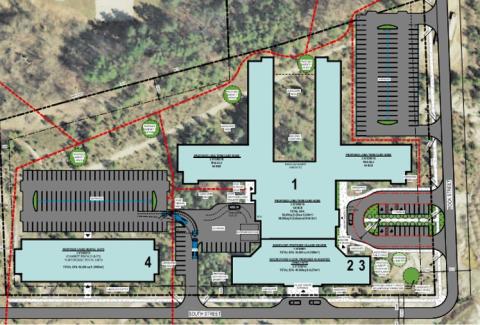 Grey County's plans to redevelop Rockwood Terrace in Durham took a big step forward on March 24 as County Council confirmed their preferred design for the project. The current 100-bed County long-term care home requires redevelopment by 2025 to meet new ministry standards. Council approved the recommendation from its long-term care Redevelopment Task Force to proceed with a 128-bed long-term home with 40 units of assisted living and a market square with retail and commercial space.
"By setting this direction for the Rockwood Terrace, Grey County Council has affirmed our commitment to the enhancing long-term care and services for seniors in our region," said Grey County Warden Selwyn 'Buck' Hicks. "This decision is a major milestone for this significant project. I commend the Task Force and the whole project team for the massive amount of research and information they have presented to help council make a thoughtful and informed decision." 
Key considerations in the design of the long-term care facility are the resident room layout, dining room enhancements, infection control, and making spaces that help create a feeling of community in the home. The design is informed through extensive engagement with residents, family members and staff in the home. Resident rooms provide more individual space in both private and basic rooms. This supports creates a more comfortable living space and enhances infection control. Dining room space is increased to provide two dining areas to support community feeling and resident experience, and the safe storage of wheelchairs and walkers. To give the building more of a home-like feeling, various nooks and seating areas will be spread throughout the home and outdoor spaces to create more locations for socialization.
Council considered two other options for the redevelopment project. The first option was to develop only the 128-bed long-term care home. The other option added 60 units of seniors' apartments also to be built by 2022.  Considering the overall costs of each option, the impact on the County tax levy and debt thresholds, Council voted to move forward with long-term care and assisted living, deferring the option of apartments for now.
The project is estimated to cost $108.5 million. A single building will house the services and it will be built to net zero targets. Based on estimated costs and inflation, a 5.61% levy increase is expected to fund the build. Staff will be exploring other opportunities to generate revenue to support the project, such as land and property sales in Durham and grant applications. Actual costs of construction won't be known until the project design is completed and a construction tender is used.
Grey County Councillor and West Grey Mayor Christine Robinson supported Council's direction and is excited to see the project moving forward. 
"This is a significant milestone moment for Grey County and West Grey for the redevelopment of Rockwood Terrace and the addition of assisted living and a market square. This focus on long-term care will enhance the quality of life and community living for Grey County residents in the care community," said Robinson.
More information on the Rockwood Terrace redevelopment project can be found on the Grey County website at www.grey.ca.
About Grey County Long-Term Care
Grey County operates three long-term care homes across the County. Grey Gables is a 66-bed home in Markdale; Rockwood Terrace is a 100-bed home in Durham; and, Lee Manor is a 150-bed home in Owen Sound. Grey County strives to enrich the quality of life for residents by providing exceptional care and service.
Grey County's long-term care services are funded primarily by the Province of Ontario. Grey County has committed an additional $5.8 million in 2022 to support long-term care operations and capital investments in the homes. 
Lear more at www.Grey.ca/Long-Term-Care.
-30-
For media inquiries contact Rob Hatten, communications manager, at rob.hatten [at] grey.ca or call 519-373-1592.