Grey County Considers Future of Long-Term Care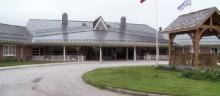 On April 5 Grey County Council discussed possible solutions to the challenges facing Rockwood Terrace, the County-owned long-term care home in Durham.  Rockwood Terrace is an older building and requires significant updates by the year 2025 to meet Ministry Standards. No decisions were made at the meeting and the discussion will continue at a future council meeting.
Rockwood Terrace's condition created an opportunity to review and understand how Grey County's long-term care homes could be organized to effectively meet the future demand for long-term care. Consultants reviewed the current situation and provided three options:
Build an addition on Grey Gables and move all 100 beds from Rockwood Terrace.
Redevelop a larger Rockwood Terrace, move all 66 beds from Grey Gables and sell Grey Gables.
Leave Grey Gables as is and redevelop 100 beds at Rockwood Terrace, onsite or at a new location.
According to the consultant report, options one and two will both create efficiencies of scale. In the long-term this will reduce amount required from taxes. Option three will maintain all three County-owned facilities and will require an increase in taxes to cover the redevelopment costs.
"Grey County Council is taking time to carefully consider all of the impacts this decision will have on residents of the homes, their families, staff and the community," said Alan Barfoot, Warden of Grey County.
Residents and families will be informed throughout the decision making process.
Grey County Long-Term Care
Grey County operates three long-term care homes across the County: Lee Manor in Owen Sound, Rockwood Terrace in Durham and Grey Gables in Markdale. Grey County provides high quality service and compassionate care to 316 residents across the three locations.