Grey County Attends ROMA Virtual Conference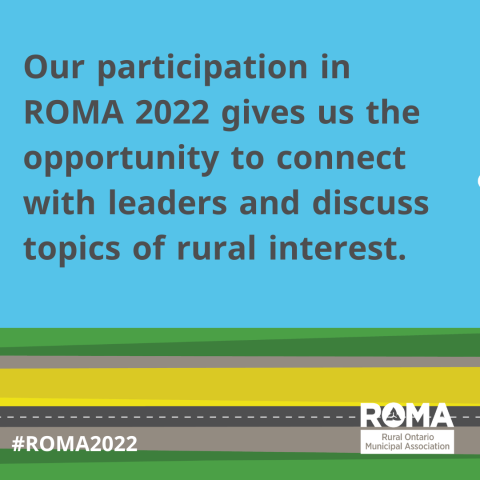 Grey County delegates and key partners brought a message of collaboration and economic advancement to the annual Rural Ontario Municipal Association (ROMA) conference, held virtually this week on January 24 and 25. The conference is an opportunity for municipal leaders to discuss important issues and to meet with key representatives from the Provincial government.
Officials from Grey County and the City of Owen Sound met with the Ministry of Energy to express support for the innovative product development work being completed by Hydrogen Optimized in Owen Sound. The company has created a water electrolysis system that produces green hydrogen at industrial scale. The delegates asked for support in continuing to build off the foundation created by Bruce Power and growing Grey County into a centre of excellence in the transition to green energy.
Grey County Warden Selwyn Hicks and CAO Kim Wingrove were joined by Bruce County Warden Janice Jackson and Interim CAO Christine MacDonald in a meeting with the Ministry of the Solicitor General. Together they discussed municipal implementation of Community Safety and Well-Being Plans. The plans are focused on projects that address complex community health challenges, such as addictions and substance abuse, mental health, and housing and homelessness. The province's support for the innovative, collaborative approach to community safety taken in Grey Bruce will ensure this important work continues and goals and objects can be achieved.
Grey and Bruce counties also met with the Ministry of Education to request support for a comprehensive approach to address the acute shortage of licensed staff in the child care sector. Early childhood education (ECE) workers are critically needed to meet existing and future demand. The pandemic has highlighted the importance of quality child care services to support Ontario's pandemic recovery. Locally, access to licensed child care services and early years programming is crucial to helping address labour shortages, reduce poverty and improve learning outcomes for our youngest residents.  An estimated 225 additional ECE workers are needed to support the demand in our region.
The Western Ontario Wardens' Caucus brought forward a delegation asking for support and collaboration with the province on Western Ontario workforce strategies, broadband infrastructure, affordable and attainable housing, and municipal representation for Ontario Health Team governance.
"Municipal government provides the public services that are closest to the people. The ROMA conference is a great opportunity to reach out to our partners in the provincial government and strategize ways we can work together for the betterment of our rural communities," said Grey County Warden Selwyn Hicks. "By collaborating with our local municipalities, neighbouring counties, and partners in the community, we can work effectively together towards shared goals and amplify our voices in ways that will see our region and the people in our communities prosper."
-30-
For more information, contact:
Grey County
Rob Hatten
Communications Manager
519-373-1592
rob.hatten [at] grey.ca (rob[dot]hatten[at]grey[dot]ca)
Bruce County
Adam Ferguson
Corporate Communications Specialist
Corporation of the County of Bruce
226-909-6399
aferguson [at] brucecounty.on.ca (aferguson[at]brucecounty[dot]on[dot]ca)