Grey County among top long-term care culture change trailblazers in Canada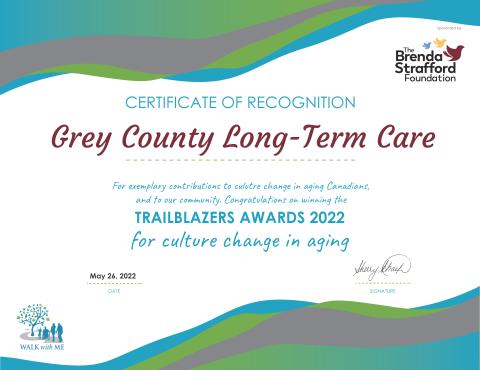 Grey County's long-term care department is a national trailblazer. The County was one of 17 care providers from across all of Canada to be nominated for the 2022 Trailblazers Awards through the Research Institute for Aging. These awards recognize homes that have made strides in changing the culture of aging through initiatives, programs, and day-to-day practices. Grey County was recognized for the "Colour It Your Way" promise of a resident-led model of care.  
"Being recognized for a Trailblazer Award is a great accomplishment for our team and well-earned validation for a decade-long mission to make our long-term care residents the centre of everything we do," said Scott Mackey, Chair of Grey County's Long-Term Care Committee of Management. "I extend my sincere thanks and appreciation to Director Jennifer Cornell and all of the staff at Grey Gables, Rockwood Terrace and Lee Manor for their ongoing compassion and dedication to those in our care."
News of the award nomination was shared with the Grey County Long-Term Care Committee of Management at the July 12 meeting.
Grey County embarked on the Colour It Your Way culture change initiative in 2013. The vision of Colour It is to enrich the quality of life for residents by moving away from a medical and institutional model of care to a relationship-focused and resident-led model. This shift required the buy in and support of all long-term care stakeholders, including leadership, staff, and volunteers. Colour It continues to guide resident interactions and broader decisions in the County's three homes.
The Trailblazer Awards are presented by the Research Institute for Aging annually at the national Walk With Me conference. This conference is aimed at changing the culture of aging in Canada. Older adults, care partners, educators, policy makers, students, and researchers from across Canada come together to learn with and from each other about how to enhance the journey of ageing across the continuum of care and community living. 
Grey County operates 316 long-term care beds across three long-term care homes in the communities of Markdale, Owen Sound and Durham. To learn more about Grey County long-term care, visit www.grey.ca/long-term-care. 
For more information about the Research Institute for Aging and the Walk With Me 2022 conference, visit www.the-ria.ca
-30-
For media inquiries contact Rob Hatten, communications manager, at rob.hatten [at] grey.ca or call 519-372-0219 ext.1235.
Image