Grand Reopening of Grey Roots Set for July 28th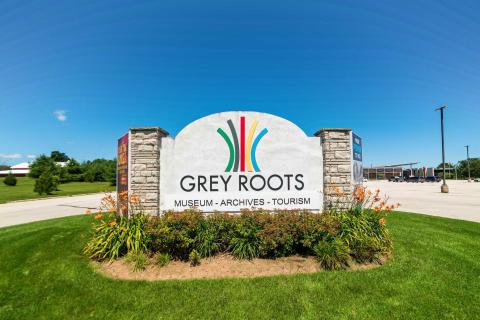 Grey Roots Museum and Archives will reopen on Wednesday July 28th. Having successfully reopened for outdoor visits to Moreston Heritage Village on July 16th, museum staff are once again ready to welcome guests inside the museum and archives.
"It's been a long wait, but we've used our time well," says Jill Paterson, Grey Roots Manager, "we've got some great new exhibits and experiences that we've really been able to polish during the shut down."
Visitors will enjoy several brand new exhibits including "Sign, Sign, Everywhere a Sign", a study of historical local business signage from Grey County, and the "100th Anniversary of the Owen Sound Transportation Company", which examines the company's fleet and features artefacts from several historic vessels. The Ontario Museum Association award-winning exhibit "Facing the Flames" also returns, as does access to the Grey County Archives.
Public Health guidelines require that all guests screen for COVID-19 symptoms prior to entry, and that masks be worn at all times while inside the facility. Indoor spaces have been structured to ensure that two metre separation can be maintained between visiting groups, and capacity limitations will be in effect.
With capacity limitations in place, visits to the museum as well as research time in the archives, are available by appointment. "Advance booking allows us to manage the flow of guests during the day so that everyone is able to enjoy the museum safely." says Paterson. "The admissions process has changed a little but our visitor experience remains fantastic, and we can't wait for the 28th!"
Grey Roots will operate seven days a week beginning July 28th, visit greyroots.com for full details and operating hours. Visitors are asked to book in advance at greyroots.com or over the phone at 519-376-3690.
-30-
For further information contact:
Jill Paterson, Manager of Museum and Archives, 519-376-3690, ext. 6104, jill.paterson [at] greyroots.com
Zak Erb, Media & Communications Coordinator, 519-376-3690 ext. 1423, media [at] greyroots.com