Extreme risk for fire danger in Grey County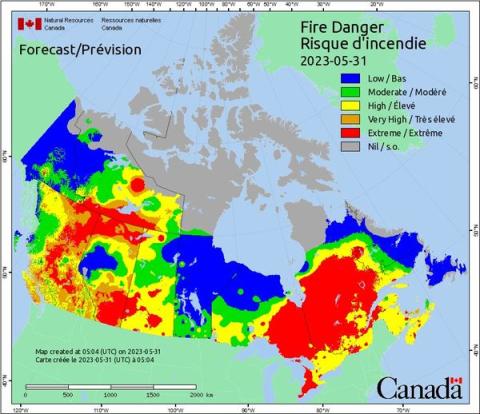 Please note Grey County is not the authority for issuing fire bans in our region. Fire bans are issued by each member municipality. If you have questions about bans in your area, please contact your municipality.  
---
The Ministry of Natural Resources Fire Map is showing our area as in extreme risk for fire danger. Fire Danger is a relative index of how easy it is to ignite vegetation, how difficult a fire may be to control, and how much damage a fire may do. With the current dry conditions, even a small spark could lead to an intense, fast-spreading fire with potentially devastating consequences.
In most of Southern Ontario, including Grey County, only municipalities have the jurisdiction to restrict outdoor fires through their municipal fire bans. Check with your local municipality or local municipal fire department for any municipal fire bans or official restrictions on outdoor burning in your area:
Be cautious wherever sparks or flames are present. If you choose to have a backyard campfire, be aware of local fire bans, make sure you have water present, never leave the fire unattended, and fully douse it when you're finished. If you smoke, always dispose of butts appropriately. When operating vehicles or equipment off road, watch for signs of sparks.
Find your local municipality's page: https://www.grey.ca/resident-services/local-municipal-services
Find more information on Restricted Fire Zones and how municipal fire bans work: https://www.ontario.ca/page/outdoor-fire-restrictions.
View the Ministry of Natural Resources fire map:  https://cwfis.cfs.nrcan.gc.ca/maps/fw