Explore Careers Your Way at the Grey Bruce Virtual Job Fair Fall Event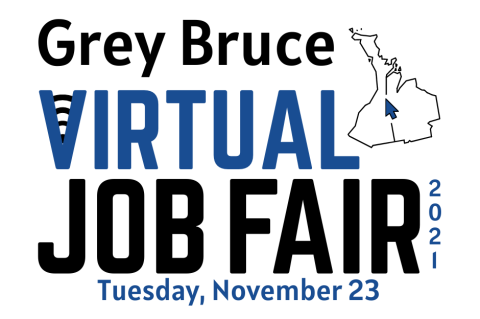 If you're ready to re-enter the workforce, make a career change or find your first job, don't miss the Grey Bruce Virtual Job Fair happening November 23 from 2:00 p.m. to 7:00 p.m.
Access 100 local employers who are looking to fill 1200+ positions. Opportunities range from entry level jobs to management level positions in all industries. There is heavy demand in healthcare, manufacturing, retail and hospitality/food service.  
To participate as a Job Seeker:
Register online at: grey.ca
Fill out your profile
Upload a copy of your resume
Browse the lobby to learn about opportunities
Attend the day of the event and chat one-on-one with employers
Job seekers are encouraged to register early as spaces are limited and fill up quickly.
Build a strong profile and upload your resume in advance to give employers the opportunity to view your skillset. Leading up to the event, employers can view job seeker profiles and extend an invitation to chat with them during the event.
Following registration, you will have access to the lobby to explore employers in attendance and job opportunities. Check back often as employers are making updates daily.
Use this opportunity to introduce yourself to recruiters, sell your skills and ask for feedback. If you're looking to make a career change or re-enter the workforce, speak with recruiters for advice on education and training. There will be various information sessions available during the event to highlight local supports to help you achieve your career goals.
By attending the Virtual Job Fair, you maximize your job search efforts while minimizing the time you spend searching for and applying to jobs.
For help updating your resume, preparing your pitch, or assistance completing your job fair profile contact YMCA Employment Services (519-371-9222) or VPI Working Solutions (519‑881‑4900).
-30-
For media inquiries contact Linda Alexander, Programs Director at YMCA of Owen Sound, at linda.alexander [at] osgb.ymca.ca or 519-371-9222 ext.228.