County Hosts 'Second Chance Reunion Luncheon'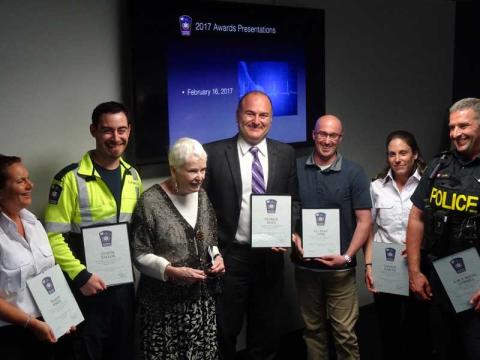 The Second Chance Reunion luncheon is an annual event held during Paramedic Services Week. At this event, cardiac arrest survivors are reunited with the paramedics and others who helped save their lives.
"During medical emergencies paramedics need to act quickly. In most cases, once a patient is transported to hospital the responding paramedic doesn't learn the final outcome of the emergency," said Grey County Director of Paramedic Services Mike Muir. "The Second Chance Reunion is an incredibly special and often emotional event. Having the opportunity to make these connections is rewarding for both the paramedics, and the patients and their families."
One particular save was highlighted at this year's event.
Mrs. Dorothy Vernon thanked Grey County paramedics, OPP officers and the Good Samaritan who helped save her husband Bill's life on February 16, 2017. Just before 2:00 p.m. that afternoon, Bill collapsed into a snowbank near the Blue Mountains municipal office in Thornbury. Bystander Patrick Egan and Acting Sergeant Kevin Cornell of the Ontario Provincial Police began CPR while Constables Richard Law and Ryan Lehr retrieved the Town's automated external defibrillator (AED). One shock was delivered to Mr. Vernon before paramedics arrived.
At 2:11 p.m. Grey County paramedics Curtis Taylor and Amanda Morris arrived and took over care of Mr. Vernon. They attached their defibrillator and continued providing CPR on the way to the Meaford Hospital. After a few minutes Mr. Vernon had a pulse and was starting to breath.  When they arrived at the hospital just before 2:30 p.m. Mr. Vernon's heart rate had stabilized.
According to Mrs. Vernon, her husband suffered limited damage to his heart and has been recovering well. Unfortunately her husband was not able to attend but she read a heartfelt message he had written. Mrs. Vernon also extended her family's appreciation and gratitude to everyone who helped save her husband's life.
Those involved in the call were recognized at the luncheon on Thursday, including Communications Officers Alicia Cresswell, Lindsay Kakosz and Tracey White from the London Central Ambulance Communication Centre.
The Second Chance Reunion Luncheon is also an opportunity to recognize others within and without of Paramedic Services for their contributions to the service and public health. "Saves" are awarded to anyone who helps a patient survive cardiac arrest.  "Stork" awards are given to those who have responded to a call where a baby is delivered. Director's Awards are given to paramedics who have shown tremendous professionalism and gone above and beyond in the line of service. Lastly, Special recognition is given to groups or individuals outside of paramedic services who contribute to care.
A full list of recipients can be found below.
"Saves"
Curtis Taylor – Paramedic
Amanda Morris – Paramedic
Andre Lefevbre – Paramedic
Sonia kaski – Paramedic
Shawn Klages – Duty Supervisor
Cheryl Churchley - Paramedic
Andrew Eckel-Braun – Paramedic
Melissa Kauffman - Paramedic
Erin Botsma - Paramedic
Alex O'Donohoe - Paramedic
Sherry Foster -Paramedic
Paul Sollors – Paramedic
Sergeant Kevin Cornell – OPP
Constable Ryan Lehr – OPP
Constable Richard Law – OPP
Karen Van Wieren – Communications Officer
Jen Masse – Communications Officer
Kellie Lawson – Communications Officer
Lindsay Dierickse – Communications Officer
Kristine Mowry – Communications Officer
Caitlin Hilton – Communications Officer
Lindsay Mowat – Communications Officer
"Stork" Awards
Bailey Peril - Paramedic
Tyler Thomas – Paramedic
Brad George – Paramedic
Cassidy Green – Paramedic
Lee Scott – Communications Officer
Tracey White - Communications Officer
"Director's" Awards
Collin Young – Paramedic
Peter Shaw – Paramedic
Bradi Watson – Paramedic
Special Recognition
Marty Zevenbergen – Grey County Mechanic
Jeff Davison – Grey County Mechanic
John Johnson – Grey County Mechanic
Ian Winget – Grey County Mechanic
John Roy - Grey County Mechanic
Quota International of Grey Bruce (Silver Q) Club was also recognized. In the fall of 2016, the club donated $300 so Grey County community paramedics could purchase healthy Good Food Boxes for patients in need.
-30-
For more information contact Communications Manager Rob Hatten at rob.hatten [at] grey.ca (rob[dot]hatten[at]grey[dot]ca) or 519-372-0219 ext.1235.