Celebrating the Bounty of the County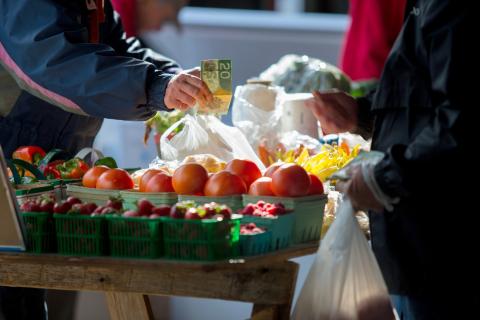 June 4 through 10 is Local Food Week in Ontario and Grey County and the Grey Bruce Health Unit have partnered to celebrate healthy, seasonal eating.
The campaign promoting the nutritional, economic, and social benefits of locally-produced food will take place in various ways. Listen for ads on four local radio stations and follow the hashtag #LocalFoodIsGreatFood.
This year, Grey County staff will visit select famers' with community partners to raise awareness about our diverse local food economy and culture. You can find our booth at:
Thornbury Farmers' Market on Sunday, June 4 with Eat Local Grey Bruce
Keady Market on Tuesday, June 6 with The Community Cookbook Co. and the Grey Bruce Agriculture and Culinary Association (GBACA)
Eat Well Market in Hanover on Friday, June 9 with the National Farmers' Union Local 344 and the GBACA
Come meet the people who grow, make, and support local food and farms across the region. Talk with Grey County staff about our new Local Agri-Food Strategic Plan and the online asset map the County is creating to identify partners and opportunities in our agri-food community. Grey Bruce Agriculture & Culinary Association maps and other great takeaways (like shopping bags and recipe books) from Ag More Than Ever and Foodland Ontario will be available at all locations.
Since 2015, Grey County has celebrated both Local Food Week and Ontario Agriculture Week in October by promoting local foods and farms through targeted public outreach and marketing initiatives. 
You can read more about Grey County's Local Agri-Food Strategic Plan in the June edition of the Made in Grey magazine. You can find it online at MadeInGrey.ca. You can also check out our helpful infographic. 
-30-
For more information contact Rob Hatten, Communications Manager, at rob.hatten [at] grey.ca (rob[dot]hatten[at]grey[dot]ca) or 519-372-0219 ext.1235. If you require any of this information in an alternate format, email communications [at] grey.ca.