Be an Early Childhood Educator in Grey County and Bruce County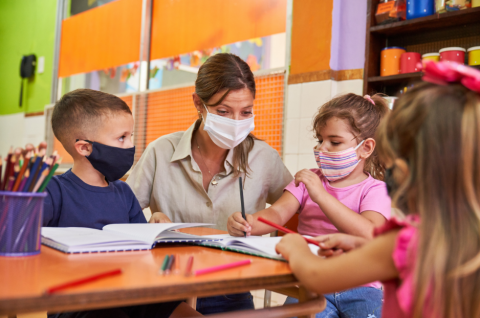 Grey County & Bruce County - Joint News Release: Working as a registered Early Childhood Educator is more than a job - it's a rewarding career! Grey County and Bruce County are now recruiting Early Childhood Educators (ECE) who can make a positive and lasting impact on children's lives in our region.
Together with the members of the Early Years and Planning Committee and other key stakeholders, Bruce County and Grey County have identified the recruitment and retention of Early Childhood Educators as a key priority of a sustainable and accessible child care system.

Registered Early Childhood Educators enjoy a diverse range of rewarding opportunities and benefits, such as flexible hours and schedules, indoor and outdoor experiences for learning and play, home-based business opportunities, and collaboration with other professionals creating engaging environments and experiences to foster children's learning and development.
Early Childhood Educators are urgently needed by licensed child care providers in both Bruce County and Grey County. Ongoing job postings can be found at www.jobsinbruce.ca, www.connect2jobs.ca, or by contacting licensed Child Care Centres directly to learn more about their job openings.
Education: Fanshawe College and Georgian College offer great Early Childhood Education diploma programs in Bruce County and Grey County. Both colleges work together with local employers for ECE field placements. If you are currently attending high school, please discuss dual credit opportunities with your guidance counsellor.
Financial Support: You can now apply for the ECE Education Grant, scholarships and bursaries, and OSAP to help cover tuition costs. There is also a Leadership Certification Grant for registered ECEs to continue their education.
Ongoing support: To help ECEs grow, learn, and reflect on their practice, there are a number of free professional development opportunities from Bruce County and Grey County, as well as the Ontario College of Early Childhood Educators. Bruce County and Grey County Economic Development Teams can also support those looking to start a home daycare with access to free one-on-one business advice consultations.

Grey County Children's Services Manager Tara Cockerill states, "Recruiting and retaining Early Childhood Educators presents a major challenge to the viability of Licensed Child Care Programs. Many child care centres in Bruce County and Grey County have indicated that a barrier to operating at full capacity was the need for qualified staff, primarily Registered Early Childhood Educators, who are essential to ensuring a high-quality early years and child care system."

Bruce County Children's Services Manager Tina Metcalfe adds, "Early Childhood Educators are integral to the provision of high quality child care and early years programming for families in Bruce County and Grey County. The authentic relationships that develop within our early years settings contribute to a sense of belonging and well-being for all concerned. We encourage all those interested in early childhood education to pursue this rewarding career in our beautiful, caring, and engaged communities."
Interested in becoming an Early Childhood Educator? Discover more at:
-30-
For Grey County media inquiries contact Grey County Communications at communications [at] grey.ca
For Bruce County media inquiries contact Adam Ferguson, Corporate Communications Specialist (Corporation of the County of Bruce) at aferguson [at] brucecounty.on.ca or call: 226-909-6399