2021 Warden's Closing Address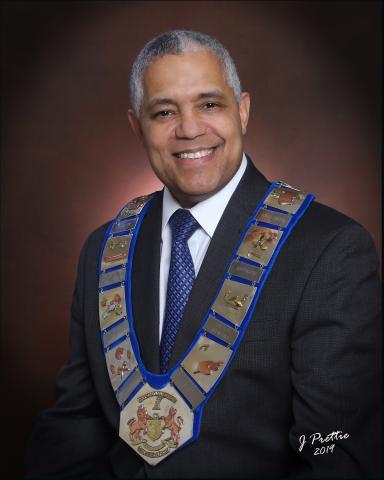 2021 Warden's Closing Remarks
Selwyn 'Buck' Hicks
Thursday, November 25th, 2021
Webster's dictionary defines the word resilient as: "able to become strong, healthy, or successful again after something bad happens." County Council, staff, visitors, virtual viewers and members of the media - it has been 360 days since my inauguration.  On that day – a day that is usually marked with some ceremony – this place was locked-down.  We were nine months into dealing with a world pandemic and only Deputy-Warden McQueen and I were permitted entrance to this building.  My wife and daughter observed the proceedings virtually from our car in the parking lot.  Take that in for a second.  I started off with the word resilient because over the past year, we have had to be exactly that.  For most of this year, our staff were working from home, and, on the occasions when I came to this facility, you could literally hear a pin drop.  Nevertheless, showing tremendous grit, our CAO, her talented senior management team and all of the staff at Grey County came through in a big way for the residents of our great County.  In a moment, I'll highlight some of the accomplishments over the last year.  At the conclusion of that highlight, you will agree with me that we have had one of our most productive years ever.  For now, I want to take this opportunity to acknowledge the tremendous effort and success of our CAO (Kim Wingrove), her senior management team and all the staff at Grey County.
On December 1st, 2020, in a speech I delivered for reelection, I told you that if elected, I would be inviting this Council to make a bold move on the issue of affordable housing.  Well, you responded in a big way.  With your support, here's what we accomplished in the area of affordable housing over the last year.
At the start of the year, Council created the Affordable Housing Development fund and endorsed a 1% annual (not one-time, but annual) contribution to the levy to be dedicated specifically to address affordable housing. In year one of the fund, the contribution was in excess of $1.1 million.  That, my friends, was a bold decision by this Council.  It is a decision that will have a meaningful impact on the affordable housing crisis in our community and will mark our legacy.
In addition to managing 1,000 units of affordable housing, over the last year, we implemented a coordinated access system for those experiencing homelessness in partnership with Bruce County. The system connects people with housing and much needed supports for maintaining housing - with a goal of ending the cycle of homelessness.
We allocated additional funding for staffing to support CMHA, Y Housing and Safe N Sound to assist people experiencing homelessness.
Our "Out of the Cold" program provides emergency housing by utilizing blocks of motel units.
An additional 11 units of transitional housing through non-profit operators will be available next month. 
Council also just approved moving forward with the purchase of a building in Owen Sound to develop 10-12 more supportive housing units.
The County-supported Odawa Heights project is expecting occupancy of 60 units this April.
We have committed $3 million to support Lutheran Social Services with an affordable housing, 32 unit build in Owen Sound for seniors. 
While we have a lot of work to do in the area of affordable housing, we can take pride in this Council's commitment and success over the last year.
Turning next to the area of Truth and Reconciliation:
This year, we established a mutual friendship commitment with M'Wikwedong Indigenous Friendship Centre;
In February, we passed our land acknowledgement policy in the spirit of Truth and Reconciliation;  and
We marked the national day for Truth and Reconciliation.
We can't talk about 2021 without addressing COVID-19.  I spent a full year as Warden in a declared state of emergency for the pandemic where we still remain.
Staff from a number of departments were quick to volunteer in support of the Hockey Hub vaccination centres.
Grey County staff started returning to the office late this summer and early fall. We continue to offer remote service delivery to clients who need our support and want to access services this way.
COVID-19 continues to impact our services and our budgets, but we continue to deliver services to the public.
Staff in frontline healthcare services staff have done an exceptional job adapting to the ongoing changes, as have staff in all departments to varying degrees.
It is important to note and acknowledge that we experienced no fatalities from COVID in any of our three long-term care homes.  For that, please join me in acknowledging the leadership of our director of Long-Term Care - Jennifer Cornell and the great work of all our long-term care staff.
Our paramedics played a proactive role in the COVID-19 pandemic, supporting public health with the rollout of vaccines to homebound residents. They supported other regions of the Province, such as Windsor, that needed support. They also made a significant impact through the Paramedic Outreach Program.  I want to specifically acknowledge our paramedics for the role they played in responding to the rooming house crisis in Hanover this year.  I can't tell you how many times over the last year I have had community partners – including Dr. Arra - call or write me to express gratitude for the role our paramedics played in the response to COVID-19.  Please join me in acknowledging the great work of our Director of Paramedic Services – Kevin McNab and all of Grey County's paramedics.
Turning next to Grey Roots – we reopened our doors and welcomed visitors back to the museum. We have adjusted to COVID-19 protocols and it is clear that the public appreciates this outlet.  Construction of the General Store has kicked off and is well underway.
In the area of Climate change – we hired a full-time Climate Change Coordinator and have been developing the climate change action plan and engaging with the public.  We have a draft climate change action plan in place that will help Grey County reduce Green House Gas emissions and improve energy efficiency while delivering benefits to the community.  We held community consultations this fall to get feedback on the plan and we are analyzing what we heard and will be reporting back shortly.
Turning next to Community Transportation - the Grey Transit Route is rolling.  Get it – rolling? Our ridership is increasing. We continue to optimize our schedules based on rider trends and feedback.  You'll recall, at the very beginning of this term of Council, we identified transportation as a high priority.  It's great to see this project doing so well.
Next, we'll turn to Long Term Care.  We have taken major steps forward this year in the planning and design of the new Rockwood Terrace facility. We are on schedule to meet our 2025 deadline. A project manager and a prime consultant are now in place to support the development process.  Grey County is developing a Behavioural Support Transitional Unit at Grey Gables. This area of the home will provide much needed specialized support to individuals with responsive behaviours and will help create capacity in our local hospitals.  Our Designated Care Partner Program – the brainchild of our Director of Long-Term Care – was a tremendous success, and, I dare say, copied by the Province for implementation across the province.
This next item deserves a heading of its own.  I'm talking about the very exciting news announced recently – with the Minister of Colleges and Universities in attendance – that commencing in 2022, our partner - Georgian College, will be delivering a full four-year Nursing Bachelor of Science Degree Program.  Grey County played a pivotal role in advocating for this program because it will go a long way in addressing the nursing shortage in our area.  Our partnership with Georgian College did not end with advocacy.  As you all know, this Council committed $1 million to support renovations to the new nursing wing at the Owen Sound campus of Georgian College.
In the area of Economic Development - We continue to hear from businesses that they are feeling the pressure of COVID-19 and labour shortages.  Our staff have continued supporting business through our support hotline all year and have been keeping them aware of available supports.  We have hosted our first, second, and third virtual job fairs this year with partners to safely help employers connect with skilled candidates. Council supported the Settlement Strategy developed through the Grey Bruce Local Immigration Partnership.  Sydenham Campus – Phase 1 launched this year. We were the only municipality to receive federal funding for a skills training, trades and innovation centre. Catapult Grey Bruce has launched.  Get it?  Catapult?  Launched?
I want to talk next about our Recreation and Outdoor Spaces.  It was another busy year for day-trippers to our area. We formed an outdoor management group with partners at local trail organizations and conservation authorities and Municipalities. Ambassadors were deployed during the busy season to ensure our natural assets were not overwhelmed.  When appropriate, visitors were redirected to alternative spaces and encouraged to visit our downtowns. We also promoted responsible tourism through our social media platforms.  Councillors Soever and Boddy joined me when Grey County hosted the Great Lakes Waterfront Trail tour adventure on August 31st.  We hosted participants from across the country and community and political leaders joined in the celebration. Dignitaries included Hon. Lisa McLeod, Minister of Heritage, Sport, Tourism and Culture Industries, MPP Bill Walker, Simcoe County Warden George Cornell, Collingwood Mayor Brian Saunders and others. In addition to the events, participants made a $500 donation to the Giche Namewikwedong Reconciliation Garden which, just last week, received a Peace medal from the Grey Bruce YMCA.
In the area of road construction – I will simply say that this year we have committed more than $17 million into improving County roads through construction and resurfacing, infrastructure work and pothole repair.
Broadband – this year we started seeing SWIFT projects activated in our area.
Our advocacy has paid off with the Province as we are seeing further significant broadband investments – to the tune of $4billion - being planned for the future.  There was the very exciting announcement this year – right here in Grey County – of a Low-Orbiting Satellite internet project through Telesat at Allan Park in West Grey.
The Hanover/Owen Sound Task Force final report will be coming out next month.  Members of that body will know that a lot of work has gone into the production of that report and action plan.
Our Affordable Housing Task Force approved an updated housing action plan in February and our Social Services department is adjusting to changes because of a Social Services Modernization plan implemented by the Province.  This could be very exciting as we see our Social Services workers return to a more traditional role of supporting clients with a range of needs.
So, there you have it.  Our third year in now completed.  I am sure that you will agree that despite unprecedented challenges, we have had a very successful year.  Looking forward, we are entering our fourth and final year of the term.  It should be an interesting year as we will have elections at both the provincial and municipal levels.  A special thank you goes out to my Mayor, Councillor Paterson.  Sue picks up the slack brought about by having a member of her council serving as Warden.
In my inaugural speech I told you that I would work to strengthen the relationship between the Warden's office and the offices of our local MP and MPP.  I am happy to report that during the last year, I have had weekly meetings with our MP, Mr. Ruff and our MPP, Mr. Walker on COVID related issues.  Additionally, I have had quarterly meetings with these gentlemen where I get to set the agenda.  I want to extend sincere gratitude to Mr. Walker and Mr. Ruff for their generosity of time and for their friendship.  I also want to thank MPP Lisa Thompson who also hosted regular meetings over the last year that I was able to attend.
A huge thank you goes out to Dr. Arra, our Medical Officer of Health.  He has been nothing short of outstanding.  I have had personal phone calls with Dr. Arra all times of the day and night and on weekends.  His intellect, compassion and hard work is off the charts.  Get it?  Doctor?  Charts?  I have learned so much about leadership from Dr. Arra.  Please join me in thanking Dr. Arra.
In closing, I want to extend my love and gratitude to my wife Barbara and our four children.  As always, none of this would be possible without you. The last word goes out to you, County Council.  I want to thank the members of County Council for all the work you do in support of the people of this great County.  I also thank you for permitting me the privilege of serving as Warden.  I truly hope that my performance has met or exceeded your expectations.
Thank you.