2022 Regional Job Fairs
Regional Job Fairs are back and in person!  Three regional job fairs are planned for Hanover, Owen Sound and Meaford. A number of full-time, part-time and seasonal positions will be available to support various industries. 
Registration is not required for job seekers to participate in these events. Employers can register for a booth online at www.grey.ca/job-fair while spaces are available.
Wednesday, March 30, 2022
2:00 PM to 6:00 PM
P&H Centre
269 7th Ave., Hanover
Thursday March 31, 2022
2:00 PM to 6:00 PM
Bayshore Community Centre
1900 3rd Ave. E., Owen Sound
Tuesday, April 5, 2022
2:00 PM to 6:00 PM
Meaford and St. Vincent Community Centre
151 Collingwood St. W., Meaford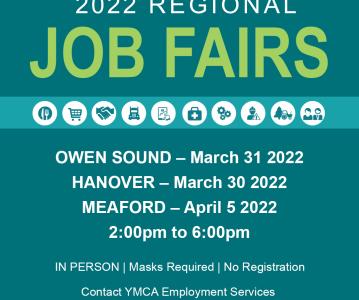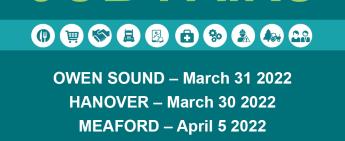 Employers and job seekers will come together once again in 2022 for in-person job fairs this March and April. Three regional job fairs are planned for Hanover, Owen Sound and Meaford. A number of full
Date Posted: March 16th, 2022