Notice of Public Information Centre: Grey Road 7 Reconstruction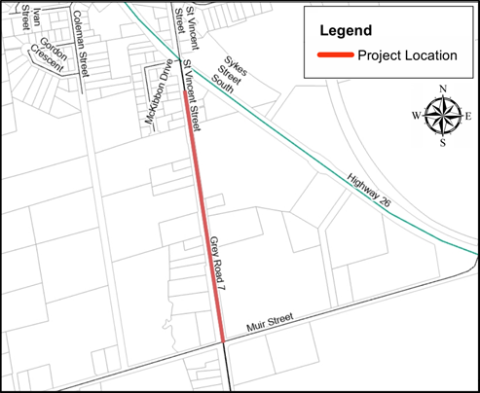 When: Monday, December 19, 2022, from 5:00 p.m. to 7:00 p.m.
Where: Knox Presbyterian Church, 197797 Grey Road 7, Meaford (beside Georgian Bay Community School)
The Municipality of Meaford and Grey County, in collaboration, intend to reconstruct Grey Road 7 between Civic Address #500 St. Vincent Street and Muir Street. This project includes the replacement of municipal water infrastructure, upgrades to surface drainage, and reconstruction of the roadway including the addition of a left turning lane into Georgian Bay Community School.
Engineering Consultant R.J. Burnside & Associates Limited has been engaged to provide the engineering design services and construction inspection for this project.
The project is being completed in 2 phases over the period of 2022 and 2023, with design and tender preparation completed in 2022, and construction anticipated to commence in 2023.
The Municipality and Grey County are hosting an in-person Public Information Centre to share details regarding the proposed design and upcoming construction project and to discuss any questions or concerns with the Project Team members.
Who do I contact if I have a question or comment?
If you have any questions or comments in the interim, please contact either of the individuals listed below.
For additional information about the project, including updates, please visit www.Meaford.ca/GreyRoad7.
Joel Saunders
Project Manager - Infrastructure, Municipality of Meaford
21 Trowbridge Street West, Meaford
519-538-1060, ext. 1319 | jsaunders [at] meaford.ca
Vic Bohdanow, P. Eng.
Project Engineer, R.J. Burnside & Associates Limited
3 Ronell Crescent, Collingwood
705-797-4278 | vic.bohdanow [at] rjburnside.com