Help "Recolour Grey" with a Short Survey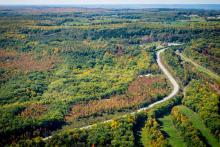 What do you think Grey County should look like in five, ten or even 20 years? What should be Grey County's priorities for growth and development? Let us know by completing our short survey.
Everyone who participates in Recolour Grey and provides their contact information will have their name entered in a prize draw for a day away in Grey!
About Recolour Grey
Recolour Grey is the name of Grey County's five-year review of the County Official Plan.  Recolour Grey challenges everyone to think 20 years into their future and envision the County the way they want to see it.
The County Official Plan sets goals related to development, communities and our natural resources.  This plan divides the county into different land uses (agricultural, wetland, urban etc.) and sets policies for each designation.
The Official Plan is active for 20 years and is revised every few years to ensure it is effective and relevant.  Now is a perfect time to "recolour" the plan to ensure it's meeting the expectations of the Grey County's diverse communities.
The success of Recolour Grey relies on meaningful public input and everyone can contribute.  It doesn't matter if you are young or old, a resident of Grey or a visitor.  We want your input to help us preserve what matters most and to grow opportunities for the next 20 years.
Learn more at Grey.ca.