Grey County offering transit passes to Georgian students this winter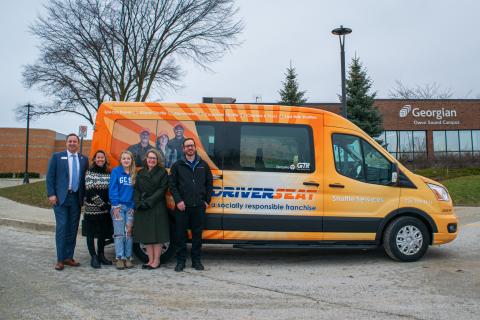 Students at Georgian College's Owen Sound Campus will be able to access free regional transportation during their winter semester courtesy of Grey County.
The service will be available through the Grey Transit Route (GTR) which operates out of Grey County. GTR provides a safe, dependable, affordable transportation option for travelling between different communities in the Grey and Bruce areas.
"The GTR is a convenient, reliable option for Georgian students to get to school and work," said Stephanie Stewart, Community Transportation Manager, Grey County. "This service will help students become more comfortable using the system and spread the word about the transit options available here in Grey County."
Grey County will issue students a code they can use at the checkout when they go online to schedule their free ride. Transit is booked through the GTR app or the website to ensure there's enough seating available.  
This service will support students from across the county in getting to and from campus as well as to employment and field placements, co-ops or practicums.
"We're very grateful to Grey County for this service as it reduces the financial burden for both international and domestic students," said Madison Lindsay, President, Owen Sound Georgian College Students' Association. "It also supports our ability to get to part-time jobs, placements and allows us to see more of the surrounding community, connect with family and friends in the GTA and have an enriched student experience." 
The codes will be issued during Orientation at the start of the winter semester and will be usable from Jan. 2 to April 30, 2023.
-30-
Photo: Dave Shorey, Executive Director, Owen Sound Campus, Georgian College; Madison Kittel, International Student Co-ordinator, Owen Sound Campus, Georgian College; Madison Lindsay, President, Georgian College Students' Association, Owen Sound Campus; Kim Wingrove, CAO – Grey County; and Adam McKeachnie, Owner/Franchisee, Driverseat, Owen Sound
For further information or to arrange an interview, contact Elaine Murray, Communications Specialist, at 249-388-0395 or elaine.murray [at] georgiancollege.ca (elaine[dot]murray[at]georgiancollege[dot]ca). For Grey County media requests, please contact Rob Hatten, Communications Manager, at 519-372-0219 ext. 1235 or rob.hatten [at] grey.ca (rob[dot]hatten[at]grey[dot]ca).

Georgian College - Grey County offering transit passes to Georgian students this winter