Supportive Outreach Service taking care to the street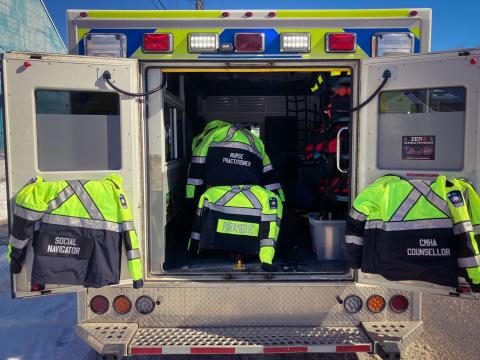 Frontline support services in Grey County have come together to form an innovative new outreach service for vulnerable people in Hanover, Owen Sound and throughout Grey Bruce. The Grey Bruce Supportive Outreach Service, called S.O.S. for short, is a proactive and accessible partnership of community care providers. Together, social workers and health care providers offer bi-weekly clinics for vulnerable people suffering from mental health and substance use issues. Clinics are offered in downtown Owen Sound at the Farmers' Market and in Hanover at the Grace United Church. Outreach services include health and medical care, peer support, mental health and addiction support, harm reduction education and supplies, housing and shelter system navigation, vaccination, clothing, food and more. 
In addition, a mobile team was activated in January to provide individual follow up on non-clinic days. The team includes addictions a specialist physician, nurse practitioner, mental health and addictions counsellor, community paramedic, and a social navigator. The mobile team is funded by Ontario Health West through the Grey Bruce Ontario Health Team (OHT). 
Grey Bruce Supportive Outreach Service includes partners from Grey County paramedic services and social services, the Canadian Mental Health Association Grey-Bruce, Grey Bruce Health Services, Grey Bruce Health Unit, the Salvation Army, the United Way and more. Discussions are underway to extend the service to Bruce County communities.
"Vulnerable people who are homeless or transient with limited access to care are at tremendous risk of negative physical and mental health issues," said Grey County's Director of Paramedic Services, Kevin McNab. "Supportive Outreach is a new approach to help deliver services directly to the people who need them. The clinics offer person-centred care and wrap-around mobile response that can improve health outcomes for those in our community who are more likely to face barriers in accessing the services they need."
The Supportive Outreach Service was formed after a number of local organizations got together to help a group of individuals who were impacted by COVID-19 outbreaks and had limited access to healthcare, stable housing and other supports.
"For individuals with barriers to care, Supportive Outreach has proven to be a more effective way to access support services," said McNab. "Every other week the drop-in clinics create a touch point for intervention and support for critical health needs that may otherwise go unmet."
Approximately 36 individuals attended the January 5 clinic in Hanover and 90 individuals attended the January 12 clinic in Owen Sound. The mobile team assists up to 30 people per day.
"Supportive Outreach has changed what frontline social support looks like and is showing the benefit of meeting people where they are at and providing wrap-around care. We've learned a lot through this partnership, and we hope to keep the program moving forward."
Donations in support of those accessing the Supportive Outreach Services can be made online through the United Way at www.stufftheyneed.ca.
Supporting Quotes
Canadian Mental Health Association Grey Bruce Mental Health and Addiction Services
"Access to health and social services throughout Grey Bruce has been an ongoing challenge for numerous community members due to how spread out our population is, and limited options for transportation. These challenges were amplified during the pandemic. Being able to bring the services directly to those in need closes a gap and increases health and social equity and outcomes. It's an incredibly exciting project and I can't wait to see how it expands throughout our smaller communities in Grey Bruce."
– Stephanie Burley, Program Manager of Addiction Services, CMHA Grey Bruce Mental Health and Addiction Services
Grey Bruce Health Services
"For individuals struggling with mental health and addiction who don't have stable housing, booking doctors' appointments and waiting to see a counsellor can be a huge challenge. With this new approach, health care providers have come together to support clients in their own community. We are proud to be a part of this team approach to helping people in need."
 – Naomi Vodden, Director of Mental Health, Grey Bruce Health Services
United Way Bruce Grey
"Bringing services to people directly and introducing them to those in their local community who wish to help is a key aspect of changing inequities and addressing the needs of the people as they identify them. A person-centred approach that is without judgement and harm ensures those that need help, get help. The collaborative nature of this pilot project is already making an impact on the lives of people in our community."
- Francesca Dobbyn, Executive Director, United Way Bruce Grey
Grey Bruce Health Unit
"By applying a Public Health lens through foundational standards and public health guidance to this first-of-its-kind outreach service, we can ensure we are planning and evaluating the population health impact of this new initiative in a coordinated and equitable manner."
- Ian Reich, Public Health Manager, Grey Bruce Health Unit.
"Public health is highly supportive of this initiative, which is in line with Dr. Arra's approved proposal to the Association of Local Public Health Agency for Public Health to lead and co-ordinate a response to address the opioid crisis."
- Dr. Rim Zayed, Public Health Physician, Grey Bruce Health Unit.
Grey Bruce Ontario Health Team
We are proud to support forward momentum of the remarkable work this team has been doing in service of some of our most vulnerable and historically underserved community members. This work showcases the expertise of our highly skilled local healthcare workers and demonstrates what is possible with true interdisciplinary cross-sectoral and cross-organizational collaboration. We envision this type of collaborative patient-centered approach as a key component of the future of healthcare across Grey and Bruce.
– Lauren Gardner, Nurse Practitioner, Grey Bruce Ontario Health Team
Grey County
"I commend all the community partners who have come together through Supportive Outreach Services to provide care and assistance to those in our communities with some of the greatest barriers. When we work together, we can have a tremendous impact, and I commend everyone delivering this program for their compassion and forward thinking."
– Selwyn Hicks, Warden, Grey County
Image

Media Inquiries
For media inquiries, contact Rob Hatten, communications manager with Grey County at rob.hatten [at] grey.ca (subject: Supportive%20Outreach%20Services) (rob[dot]hatten[at]grey[dot]ca) or 519-373-1592.