Rediscover Responsibly in Grey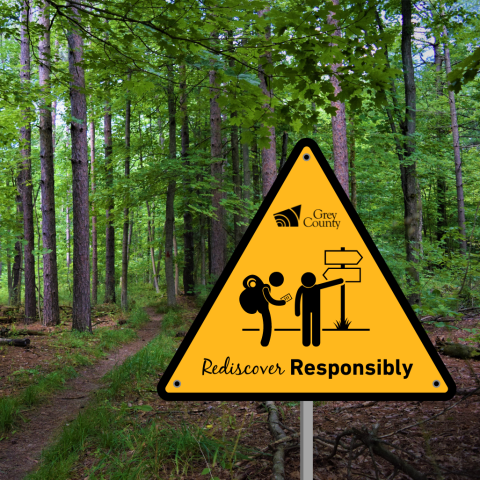 Grey County has launched a new campaign for this summer season focused on safety awareness, respectful behaviour, and rediscovering Grey responsibly. Whether local or visiting the area, Rediscover Responsibly encourages everyone to have the best and safest experience possible in Grey County.
Grey County understands that many of us are now exploring more than just our own backyards. The County is encouraging local businesses and tourism locations to utilize the Rediscover Responsibly campaign as a way to remind everyone of responsible tourism practices and etiquette. Respectful and safe behaviour is at the forefront of this campaign, with reminders about reduced capacities, wait times, full parking lots, or crowded spaces being a part of the many messages broadcasted locally this season.
Anticipating a busy summer, Grey County has put together six helpful tips associated with this year's campaign:
Be prepared.
Do not trespass.
Respect nature, agriculture, & wildlife.
Protect our environment.
Photography Safety: "Don't do it for the 'gram."
Observe COVID-19 protocols.
The hope is that residents and visitors will rediscover Grey County's tourism offerings and businesses in a safe and responsible way.
Businesses can download the Rediscover Responsibly campaign poster on visitgrey.ca, as well as the Trail Etiquette poster promoting best practices while using trails and natural spaces in our area.
Plan ahead with our Outdoor Activity Map, to find out which outdoor locations are open, including patios!
-30-
For media inquiries contact Grey County Communications at communications [at] grey.ca.