Grey Roots Awards Tender for Construction of General Store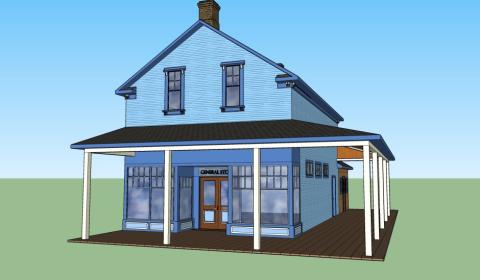 Grey Roots Museum & Archives is pleased to announce plans for the construction of a General Store in Moreston Heritage Village. This building will function as a historic general store as well as a space for special event demonstrations and educational programming activities.
Tender for construction was awarded to DOMM Construction Ltd. The project is intended to begin this spring, with careful consideration of Provincial restrictions at that time, and is expected to be completed by fall 2021. The construction contract was awarded at $450,000.
Jill Paterson, Manager, says, "We are excited to see this project moving forward. We have long anticipated this new build and with the development of the Regional Agriculture Learning and Demonstration site next door, the General Store will provide a great opportunity to showcase the abundance of products from Grey County farms and celebrate local business as economic drivers and treasured community hubs."
The construction of a replica General Store will help enrich the Grey Roots experience for visitors and residents by increasing the number of artefacts on display and attracting new audiences.  
Moreston Heritage Village is located next to the main Grey Roots Museum and Archives building. The ten-acre village features historic and replica buildings including a sawmill, schoolhouse, garage, and blacksmith shop.
-30-
For more information contact:            
Jill Paterson, Grey Roots Manager, 519-376-3690 ext. 6104, jill.paterson [at] grey.ca
Katrina Peredun, Communications Officer, 519-376-3690 ext. 6135, katrina.peredun [at] grey.ca