Emergency and Support Services Responding to Hanover Fire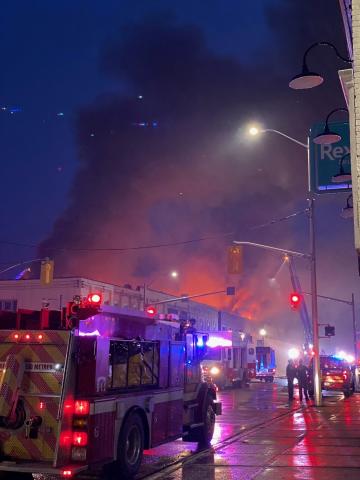 Early in the morning of May 19 a fire broke out at a rooming house at 315 10th Street in downtown Hanover. Fire crews from Hanover and the surrounding area responded to the fire, along with paramedic services from Grey and Bruce counties. There are no reports of serious injury. The building has been heavily damaged. The extent of damage to neighbouring buildings is not yet known.

Hanover Police Services is asking everyone to avoid the downtown core.  10th Street between 9th Avenue and 11th Avenue has been closed to pedestrians and vehicles to allow emergency crews to do their work. The Town is also asking residents to conserve water as the situation continues.

A crisis response team with representatives from Grey County and community agencies is on the scene providing support to the victims. Displaced residents are asked to go to Grace United Church at 310 12th street in Hanover for assistance. The team is providing food, clothing and emotional and other supports. Nurse practitioners and community paramedics are also providing care to those in need.  

Grey County is working with YMCA Housing Services to assess needs and find appropriate housing solutions.

The United Way Bruce Grey has established a disaster relief fund to support victims of the fire. Donations can be made through www.donatetoday.ca by choosing the General Fund and leaving a note to indicate Hanover Fire.  

The Town of Hanover advises that Civic Centre and library will be closed for the day on May 19. For urgent municipal matters, call 519-881-8061.

This situation continues to develop. More information will be shared as it becomes available.
-30-
For media inquiries contact Rob Hatten, communications manager, at rob.hatten [at] grey.catarget="_blank" or call 519-373-1592.